Dr. Wesley Chiang
Orthodontist, Specializing in Braces and Invisalign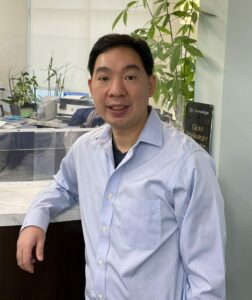 "I am most passionate about making a difference in my patients' lives and helping them discover how straight and beautiful their smile can be. I chose to be in the field of orthodontics because I want to make an impact in one's quality of life and to bring more confidence to the world. My goal is to provide excellent orthodontic treatment for children and adults.
It is so exciting to be able to give my patients a beautiful smile and see their self-confidence grow. It is very rewarding to be able to treat kids and adult with so many different life experiences and stories, getting to know each and every single one of my patients on a personal level. I look forward to meeting you and your family, and building a relationship that will last as long as the smile we create for you." – Dr. Wesley Chiang
Dr. Chiang studied at Tufts University School of Dentistry earning his Doctorate of Dental Medicine. Followed by the Detroit Mercy School of Dentistry, receiving his Master of Science degree and Certificate in Orthodontics.
Dr. Chiang is actively involved in local study clubs and regularly attends continuing education courses in order to stay up-to-date on the newest, most innovative orthodontic procedures to create beautiful smiles for his patients.
Dr. Chiang continues to be an active member of the American Association of Orthodontists and the Pacific Coast Society of Orthodontists, both of which afford numerous learning opportunities throughout the year.
Orthodontic Care for The Whole Family
Teeth straightening is not just for children and teens. A good percentage of adults also take advantage of orthodontic treatment.
Creating Beautiful Smiles is What We Do
Dr. Chiang has dedicated himself in providing high-quality treatment to his patients. He was recognized when he was selected from over 400 dentists and orthodontists to receive the Chairman's Award in 2016.
Testimonials
Dr. Chiang is an amazing orthodontist. I have never met a doctor so careful and diligent. I have Invisalign with him and the process is very simple with him as he explains everything perfectly and really makes sure that every aspect and step is understood. I have referred family and friends to him and he never disappoints! :)"
I really like this place because Doctor Chiang comforts you and describes to you what is happening. I also like how you are attended to very fast and how Doctor Chiang always makes sure everything is going well. Thank you."
Dr. Chiang and his staff are amazing. They are most accommodative and patient with patients and their changing schedules. Dr.Chiang is good at communicating what changes and adjustments he is making. Jenni, his assistant is also great. She is very skilled and does the adjustments with minimal discomfort. All in all, aces!"
About Orthodontics
For most people, achieving a healthy, beautiful smile is the reason for receiving orthodontic care. If you're self-conscious about your smile, correcting your concerns with braces will greatly improve the way you look and feel.
When your treatment is complete, you will have the smile you've always dreamed of and the confidence to show it off! We also want you to feel comfortable and confident throughout your entire orthodontic experience, and our practice is dedicated to making sure that you receive the quality care you deserve.
How Orthodontic Treatment Works
Orthodontic appliances are made of metal, ceramic, or plastic. They may be removable or they may be brackets bonded to the teeth. By placing a constant, gentle force in a carefully controlled direction, braces slowly move teeth to the proper position.
Gone are the days when a metal band with a bracket was placed around each tooth. You can now choose clear or metal brackets and, in some cases, the color of your appliance. Wires are far less noticeable, and the latest materials are designed to move teeth faster with more comfort. Today, any age is a great age to wear braces!
We recognize that all of our patients are unique and deserve to receive orthodontic care that reflects their individual needs. Our experienced and talented team is committed to working with you and your family to create a comfortable, stress-free, and rewarding orthodontic experience every time you visit our practice. We are pleased to welcome you and your family, and we look forward to working with you.
You're In Good Hands
Located conveniently in Sunnyvale, CA, the orthodontic office of Wesley Chiang, DMD, MS provides excellent orthodontic treatment and the highest quality of care. It is our goal to build beautiful smiles for all our wonderful patients, allowing them to achieve the confident smile they've always dreamed of.
Our team devotes our attention to each patient in order to offer truly personalized service. Using only the finest materials and technology and Invisalign® clear aligners, the treatments we provide are as unique as each beautiful smile we create.
When you're ready to discover the difference that orthodontic care can make in your life, feel free to give us a call! At your complimentary consultation, you'll be welcomed into our practice, learn about your treatment options, and begin your journey to a whole new you!
At our practice, your beautiful smile begins with a thorough examination and an assessment of your best treatment options. Please call us to make an appointment for your complimentary consultation with Dr. Chiang.
Easy Financing
With a low-cost deposit to get started and easy, in-office financing, we do all we can to make orthodontic care more available to everyone. With low monthly payments spread out throughout your treatment, your new smile is within reach.
Innovative Technology
Using only the finest materials and technology. Our digital scanner completely eliminates the tray and putty impressions and ensures more accurate impressions, resulting in improved treatment and greater comfort.
Safety Protocols in place
To help prevent the transmission of all respiratory infections, including COVID-19, our office is taking additional infection control steps to ensure patient safety.
We are following universal precautions and new guidelines set forth by the Centers of Disease Control (CDC) and Occupational Safety and Health Administration (OSHA).
We have placed sneeze guards in our reception welcome counter and 99.9% True HEPA filters in key areas throughout the office. We will also be taking strict hygiene steps to protect our patients and staff. We look forward to seeing you. Thank you and stay safe.
Schedule Your Free Consultation Today!
Your Free Consultation is also obligation-free. It entails a detailed exam and x-rays so that we can discuss which options are appropriate for you or your child. Our staff will also explain pricing, insurance, and available financing based on your needs.
Or Fill in this Form and we will Contact you at a convenient time