Get a Free Braces Consultation
Dr. Chiang will give you an examination with imaging and explain all of your options.
We Offer Excellent Orthodontic Treatment and the Highest Quality of Care
We offer a free consultation for anyone interested in getting braces. This includes imaging and an examination by Dr. Chiang. We're happy to answer all of your questions and discuss which treatment options would be right for you.
Once the imaging and exam are done, your treatment options and costs will be discussed, including any possible dental insurance benefits. Now you and Dr. Chiang can work out the best possible treatment plans tailored for you or your child.
Get Started on Your Beautiful Smile
With easy financing options and low monthly payments, you can schedule to get started on your treatment plan at your earliest convenience.
The sooner you get started, the sooner you'll be completed!
Call Us to Schedule a Free Consultation Now!
Reasons for Braces:
Breathing or swallowing problems – Mouth breathing can lead to snoring and sleep apnea.
Crossbite – One or more upper teeth bite inside the lower teeth.
Crowding – Involving extra teeth or malpositioned teeth.
Deep Overbite – The lower front teeth bite into the upper tissue of the upper teeth.
Disfiguring of the face & mouth – Affects the development of the jaw and position of the teeth.
Jaw & jaw joint pain
Missing or extra teeth – Due to tooth decay, injuries, or inherited problems.
Overjet – Upper teeth that protrude beyond normal and are usually associated with a short lower jaw.
Self-image – An attractive smile can boost a person's self-image and confidence.
Spacing between teeth – Teeth are missing or may be too small or too large.
Speech, chewing or biting problems
Underbite (lower jaw protrusion) – Lower jaw is longer than the upper jaw.
Teeth erupting out of position – Can be guided to proper alignment.
Call Us to Schedule a Free Consultation Now!
Or Fill in the Form below and we will contact you at a convenient time
What are Traditional Braces?
Traditional (metal) braces are made out of stainless steel or titanium. Modern metal braces are smaller, flatter, and more lightweight than they used to be. Oftentimes when people think of metal braces, they think of the old school "metal mouth" type images, however, braces have come a long way since then!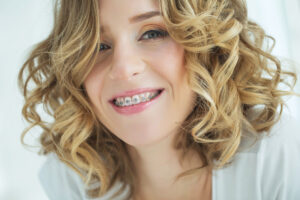 Traditional metal braces consist of small brackets that are attached to each tooth with a special dental bonding adhesive. A dental wire (called an archwire) is attached to each bracket, connecting them together. Elastic bands, also called O-rings, are used to attach the archwire to the brackets.
After braces have been applied, periodic follow-ups are required so that they can be adjusted. This involves repositioning the archwire which puts subtle pressure on the teeth to slowly move them into their correct position. As the teeth move over time, the bone surrounding the teeth changes shape which allows the teeth to stay firmly anchored into their correct alignment.
Metal braces can be used to correct all types of conditions. They are the most durable option because they don't break easily. Additionally, they are usually the least expensive type of braces and they provide the shortest treatment duration compared to other types of braces.
Invisalign: A Clear Braces Option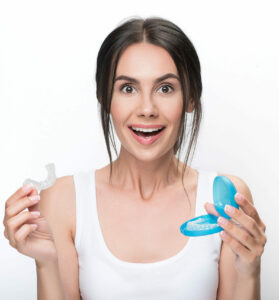 The Invisalign teeth straightening process is nearly identical to that of traditional braces, in that the molded aligners gently push the teeth from their current position to their ideal position over a period of time. The difference lies in their incredible comfort, and lack of interference in your daily life!
The Clear Aligners are Removable
When you eat you may remove the clear aligners and eat anything you chose. Or if you have an important speaking gig, you can just take them out.
They're Practically Invisible!
The best part about Invisalign Clear Aligners is that most people can't even tell you are wearing them!
Free Braces Consultation!
Quality and Affordability in All Types of Braces
Low Downpayment to get started. Low Monthly Payments with In-House, Interest-Free Financing
At our practice, your beautiful smile begins with a thorough examination and an assessment of your best treatment options. Please call us to make an appointment for your complimentary consultation with Dr. Chiang.
Easy Financing
With a low-cost deposit to get started and easy, in-office financing, we do all we can to make orthodontic care more available to everyone. With low monthly payments spread out throughout your treatment, your new smile is within reach.
Innovative Technology
Using only the finest materials and technology. Our digital scanner completely eliminates the tray and putty impressions and ensures more accurate impressions, resulting in improved treatment and greater comfort.
Call Us to Schedule a Free Consultation Now!
Or Fill in the Form below and we will Contact you at a convenient time
Why Braces?
The benefits of orthodontic treatment often go beyond the obvious physical changes of an improved bite and straighter teeth; it's also a great way to improve a person's overall self-image.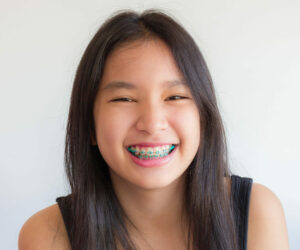 While having beautiful straight teeth is important, even more important is the need to alleviate any potential health problems associated with the teeth or jaw.  Crooked teeth or jaw problems may contribute to improper cleaning of teeth, leading to tooth decay and, possibly, gum disease or total tooth loss.  Orthodontic problems that go untreated can lead to chewing and digestion difficulties, speech impairments, and abnormal wear of tooth surfaces.  Over time, excessive strain on gum tissue and the bone that supports the teeth can affect the jaw joints leading to problems such as headaches or face and neck pain.
The American Association of Orthodontics recommends that children get an orthodontic evaluation no later than age 7.  Though orthodontic treatment can be done at any age, timely treatment ensures maximum dental health.
With all of the recent advancements in orthodontics, wearing braces has never been easier.  State-of-the-art appliances and treatments are now available. Some patients may even be candidates for treatment with Invisalign, a revolutionary way to straighten teeth using clear, retainer-type aligners that require no braces or wires!
We will thoroughly discuss which treatment option is best suited for you!
Safety Protocols in place
To help prevent the transmission of all respiratory infections, including COVID-19, our office is taking additional infection control steps to ensure patient safety.
We are following universal precautions and new guidelines set forth by the Centers of Disease Control (CDC) and Occupational Safety and Health Administration (OSHA).
We have placed sneeze guards in our reception welcome counter and 99.9% True HEPA filters in key areas throughout the office. We will also be taking strict hygiene steps to protect our patients and staff. We look forward to seeing you. Thank you and stay safe.
Schedule Your Free Consultation Today!
Your Free Consultation is also obligation-free. It entails a detailed exam and x-rays so that we can discuss which options are appropriate for you or your child. Our staff will also explain pricing, insurance, and available financing based on your needs.
Or Fill in the Form above and we will contact you at a convenient time