Invisalign® Clear Aligners for a Beautiful Smile
More Comfortable, Almost Invisible, No Eating Restrictions and Easy Maintenance
Get A Free Invisalign Consultation!
Including Imaging and Exam
* Affordable Invisalign
* Low Downpayment to Start
* Low Monthly Payments
* Interest-Free Financing
Invisalign® is a method of straightening teeth that is different than traditional braces. Treatment consists of using clear, plastic aligners that fit perfectly over your teeth and are changed out every few weeks. This allows them to move teeth little by little until they are in perfect alignment.

Invisalign®
One of the best options for straightening teeth and giving you a beautiful smile!
Invisalign® can also be used to correct many of the same issues as conventional braces including:
Crooked teeth
Overbite – the top front teeth sit over the bottom teeth
Underbite – the bottom teeth protrude and cover the top front teeth
Crossbite – the upper and lower jaws don't line up
Open bite – the front upper and lower teeth don't meet at all
Crowded teeth
(Depending on the severity of what needs to be corrected, not all patients are candidates for Invisalign®. Some case require traditional braces. Get a Free Exam and Consultation to Find Out if Invisalign is Right for You. No Obligation)
To Schedule a Free Invisalign Consultation
Or Fill in the Form at the bottom of this page and we will Contact you at a convenient time
The Process of Invisalign® Treatment
Digital Impression
First, a digital model of your teeth is made, which makes it possible for Dr. Chiang to create an exact digital replica of your teeth. This same technology allows him to digitally transform your teeth into perfect alignment and see the "after" results so that he can tweak each aligner to provide exact movement sequences. These will move your teeth little by little to the desired end result.
Preparations
This treatment plan is transferred digitally directly to Invisalign® and they create all of the aligners. They are then sent to our office, custom-made for you, and ready for use. Some minor prep work will be done including some small tooth-colored dots (made out of composite material) are applied in such a way that they will help direct teeth in the proper direction.
Series of Aligners
Once the preparations are done, you can begin wearing your first aligner. Dr. Chiang will provide you with all of your aligners at the beginning of your treatment and advise you on how often you need to change them out. He'll also let you know how often to come in for a progress check. You will proceed through your full set of aligners, changing them out every 2 or 3 weeks until complete.
Invisalign Benefits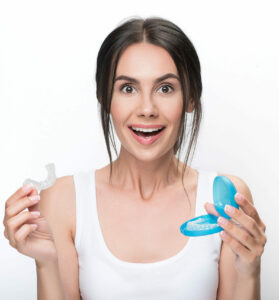 In addition to being invisible, one of the great things about Invisalign is that your follow-up visits will be fewer than if you had traditional metal braces, since there is no tightening required. You just change out your aligners based on the time period specified by Dr. Chiang!
With traditional metal braces, you have to take extra steps to maintain your oral hygiene in order to brush and floss around all of the brackets and wires. You are also restricted on what you can eat because you don't want to bite into anything hard or chewy so as not to damage your braces.
With Invisalign, you won't have these worries because you remove your aligners before you eat, so there are NO food restrictions! Additionally, you only have to brush and floss your teeth as usual, though we do recommend doing so after eating so that there are no food particles stuck between your teeth and the aligners to avoid tooth decay.
There are Invisalign Programs for all ages.
♦ Adult Care
♦ Invisalign Teen
♦ Little Smiles for Children
Invisalign Teen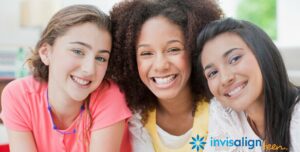 With the social pressures that teens can be under, Invisalign Teen can be a great option.
Advantages for Teens include:
♥ Clear aligners that are discreet.
♥ Protection provided during sports.
♥ The option to remove them when eating, playing an instrument or public speaking.
In short, they don't interrupt your life!
We are Invisalign Specialists!
Dr. Chiang has successfully treated hundreds of patients with Invisalign. While there are Dentists that offer Invisalign treatment, the proper alignment of teeth and bite is specialized. Orthodontists have years of additional training for this.
Why not see a Specialist if the cost is the same? It's your smile for a lifetime.
To Schedule a Free Invisalign Consultation
Or Fill in the Form below and we will Contact you at a convenient time
Meet Dr. Chiang
"I am most passionate about making a difference in my patients' lives and helping them discover how straight and beautiful their smile can be. I chose to be in the field of orthodontics because I want to make an impact in one's quality of life and to bring more confidence to the world. My goal is to provide excellent orthodontic treatment for children and adults.

It is so exciting to be able to give my patients a beautiful smile and see their self-confidence grow. It is very rewarding to be able to treat kids and adult with so many different life experiences and stories, getting to know each and every single one of my patients on a personal level. I look forward to meeting you and your family, and building a relationship that will last as long as the smile we create for you." – Dr. Wesley Chiang
Testimonials
"Dr. Chiang is an amazing orthodontist. I have never met a doctor so careful and diligent. I have Invisalign with him and the process is very simple with him as he explains everything perfectly and really makes sure that every aspect and step is understood. I have referred family and friends to him and he never disappoints! :)" – Carla

"I really like this place because Doctor Chiang comforts you and describes to you what is happening. I also like how you are attended to very fast and how Doctor Chiang always makes sure everything is going well. Thank you." – Rosaura

Dr. Chiang and his staff are amazing. They are most accommodative and patient with patients and their changing schedules. Dr.Chiang is good at communicating what changes and adjustments he is making. Jenni, his assistant is very skilled and does the adjustments with minimal discomfort. All in all, aces!" – Seetharam
Schedule a Free, No-Obligation Invisalign Consultation
You don't have to decide anything now. Come see Dr. Chiang for a Free Orthodontic Consultation with absolutely no obligation. This will include a thorough examination and a precise assessment of your orthodontic needs. You can then discuss all possible treatment options, length of treatment and costs. He can answer all of your questions and help you to decide what is right for you.
To Schedule a Free Invisalign Consultation
Or Fill in this Form and we will Contact you at a convenient time
Safety Protocols in place
To help prevent the transmission of all respiratory infections, including COVID-19, our office is taking additional infection control steps to ensure patient safety.
We are following universal precautions and new guidelines set forth by the Centers of Disease Control (CDC) and Occupational Safety and Health Administration (OSHA).
We have placed sneeze guards in our reception welcome counter and 99.9% True HEPA filters in key areas throughout the office. We will also be taking strict hygiene steps to protect our patients and staff. We look forward to seeing you. Thank you and stay safe.